Out of office delegation enables a user to delegate another approver to approve invoices on their behalf. While the Out of Office has a delegated approver, invoices routed to the initial approver will automatically reroute to the delegated approver. The invoice will then follow any approval routing based on the new approver's approval limit.
You can set your own Out of Office using the My Profile option, or you can edit another user's Out of Office using the Edit User option from User Management.
To set your Out of Office, you will need to edit your Profile.
Click User Options from the Dashboard.
Click My Profile

My Profile has a field that enables you to select the user you want to set for your Out of Office.
Click the arrow on the right side of the Out of Office field and select the appropriate user.
Click Submit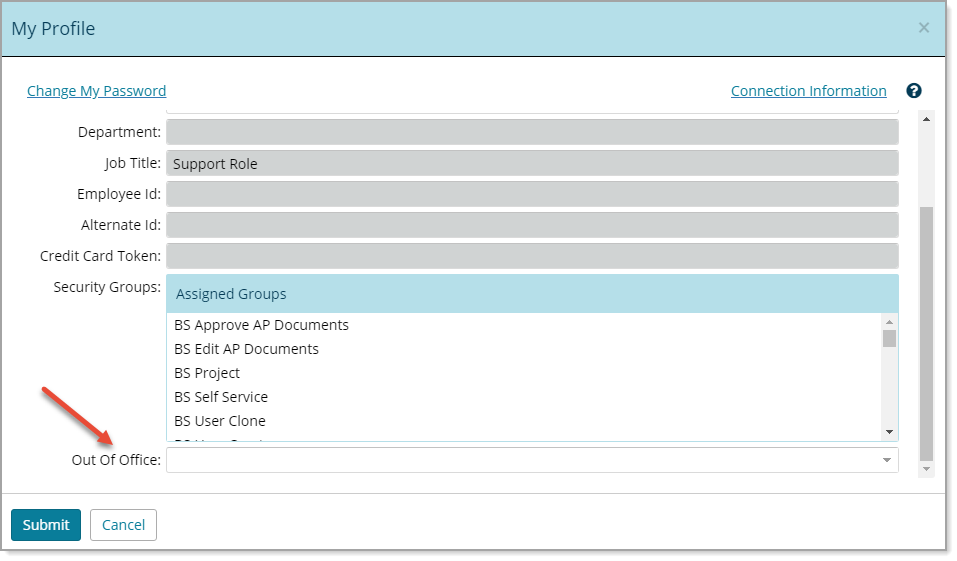 To remove your Out of Office setting, remove the Username from the Out of Office field and click Submit.
Note: Out of Office does not take effect immediately, but there is a process that runs once a day at 4:00am CST. If you set your out of office today, documents will continue to be routed to your until the next process funs. For example, if I set my out of office at 8:00am CST on Monday, documents will not be rerouted until 4;00am CST on Tuesday.
Any documents already routed to you before the out of office takes effect will remain in your approval queue and will not be rerouted.
REV04022022 JSD