The Filter Search option enables you to further refine a search for specific data fields and values. This allows you to refine your search to narrow down your results to specific documents that you would like to review.
Filter search enables you to:
Search on up to three specific data fields

Search based on dates, using specific dates or ranges

Search based on all words, exact wording, one or more words, or exclusive of specific words

Search based on dollar amounts (e.g. greater than, less than, equal to or a range)
To create a Filter Search, click the 'Show Filters' button
This will display the additional fields for the Filter Search. If you do not want the Saved/Published Search or the Search Term to be part of your Refined Search, you should click the "Clear Search" button to clear any previous search filters. Otherwise, the Saved/Published Search and Search Terms will be included in the criteria for the search.

From the "Select Field" dropdown, select the field(s) that you want to search. The dropdown will display all the fields that are available in the Filter Search.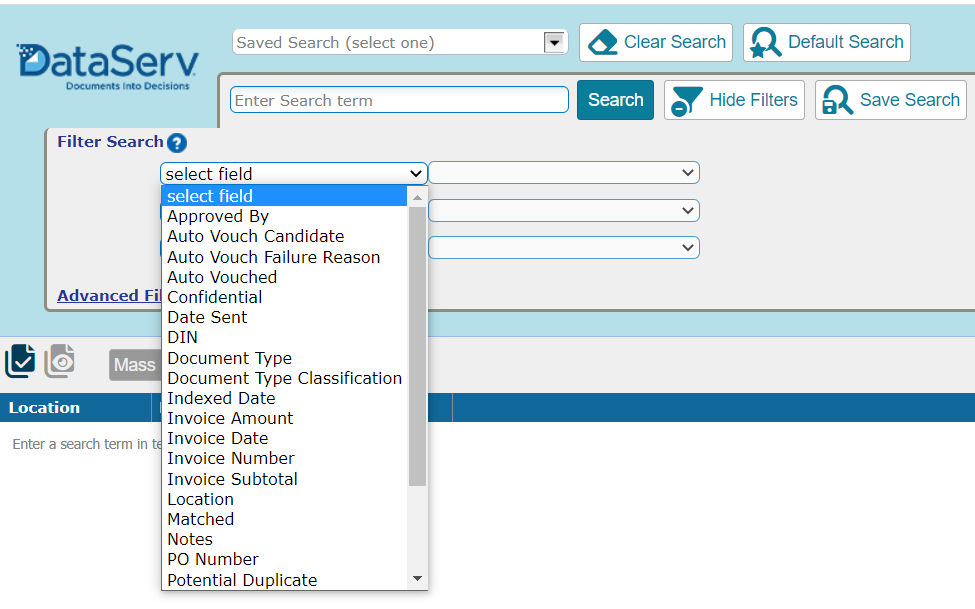 Next select the type of search that you want to run. The options available in this field will vary depending upon the field that you select to search. In this example, the Vendor Name field was selected. This is a text field, so the options shown are for text field searches.

Select the phrase that you want to search. In this example, we are doing a Vendor Name search on any Vendor Names that contain the word "Office".
You can search on up to three fields. In this example, we are also going to search for Invoice Amounts. Since Invoice Amount is a currency field, the search options are different than the Vendor Name search.

To run the search, click the "Search" button. The search results will be shown in the Search Results Grid.
The Refined Search uses an AND operator when running the search with multiple lines of criteria.
The Advanced Filtering option will have additional fields available for searching and additional search options such as And/Or searches. Click here for more info on Advanced Filtering