The 'Reject' button can be used to reject an invoice back to the AP team because we do not wish to have the invoice process/paid. For example, we have contacted the vendor and a new invoice is being sent due to a discrepancy on the current invoice.
The 'Reject' option will be available for non-po invoices, po invoices, and credit memos routed to approvers/buyers.
This button functions differently than the 'Return to AP' which sends an invoice back to your AP Dept for review/update. For more information Return to AP Workflow Button
The 'Reject' button can be found under the 'blue' workflow button in the upper left corner of the Document Viewer screen.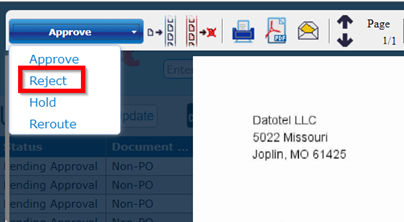 To Reject and Invoice to AP:
Click the small drop-down arrow to the right of the Approve/Match Invoice button.

The Approve/Match Invoice dropdown will be displayed.

Select the 'Reject' option.
4. The 'Reject' window will be displayed.

5. Select a 'Reject Reason'.
6. Enter in any notes informing AP as to why we are sending the invoice back
7. Click Confirm.
Invoices will now be routed back to the AP team and show in their 'Rejected' queue. The status will be 'Rejected' and the Route To will be removed. AP will mark status as 'Duplicate/Void' and no further processing will occur.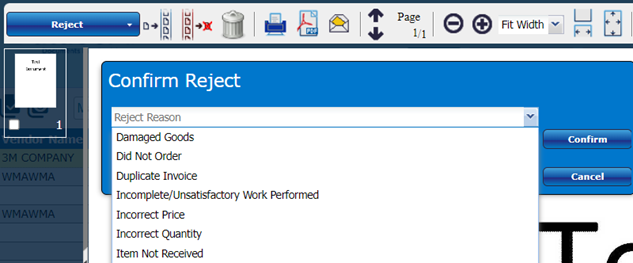 Standard Reject Reasons:
Damaged Goods

Did Not Order

Duplicate Invoice

Incomplete/Unsatisfactory Work Performed

Incorrect Price

Incorrect Quantity

Item Not Received.
Documents routed back to AP can be found in the published search 'Rejected Invoices'

Invoices will be in a status of 'Rejected' and the Route To will have been removed.
After review AP can:
-Update the 'Status' to Duplicate/Void