The Hot Batch process provides the ability to pay invoices immediately out of your ERP system when the standard digital mailroom (DM) turnaround is not quick enough. This is an exception process and should only be used when an invoice needs to be paid immediately.
The Hot Batch ingestion email is different than your standard ingestion email and generally resembles the following: XX-HOTInv@dataserv-stl.com. Documents must be sent to your specific hot batch email address to in order to be processed as 'Hot Batch'. Documents sent to you regular ingestion email will not be processed as Hot Batch.
Emails submitted through the Hot Batch email are processed every 30 minutes and should be available within an hour of DataServ receiving the email.
These documents do not go through the Digital Mailroom (DM) OCR (Optical Character Recognition) process but are imported directly into DataServ. Therefore, the imported documents will only contain Status, DIN, Indexed Date, Capture Detail 1 (sent from), Capture Detail 2 (subject), Capture Detail 3 (file name), Document Type Classification, and Notes.
There will be no vendor information or invoice amounts.
The Document Type Classification will be listed at 'Hot Batch'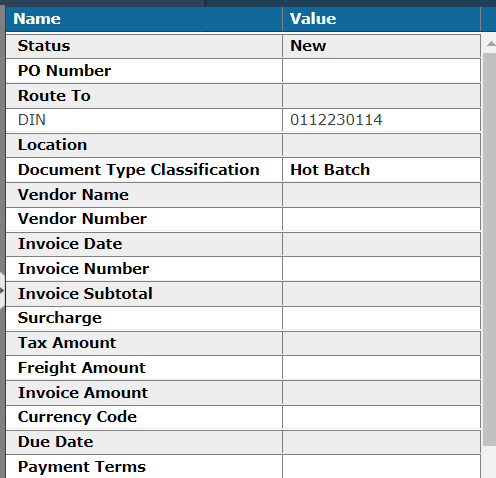 Hot Batch documents can be found by using the published search "Hot Batch Invoices"
or you can do a search using Document Type Classification of 'Hot Batch' and the applicable index date.